We offer an online CDR writing service in Australia. CDR report writing guidelines, CDR reports for mechanical engineers, and CDR for electrical engineers. Before we begin work on your CDR, we gather all the information we require regarding your career path and the CPD activities you have engaged in during the previous two years. Australia's CPD is available here.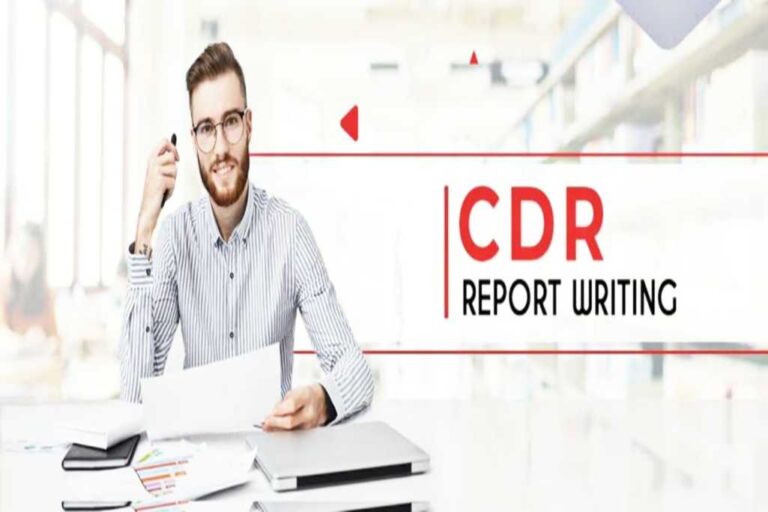 The career episodes don't focus on times when you're the centre of attention in your professional life but our professionals assist you in crafting each career episode that emphasizes not only your abilities and expertise but also your capacity for project leadership and teamwork. Therefore, seek the assistance of CDR Australia for talent evaluation and get an effective CDR ready. 
Summary statement:
We know that it becomes challenging for students to prepare the summary statement because it requires careful selection of the primary components of the career episodes. When you ask us to write your CDR, we gather all the information we need from you and emphasize the essential technical abilities in this section to make it interesting.
The Advantages of Using Global Assignment Service to Prepare Your CDR for Engineers Australia
CDR writing service have been offered by GlobalAssignmentService.com for more than ten years. In all these years, our staff was able to offer the applicants the required CDR in coherence with the information provided by the clients. In other words, Global Assignment Service provides customized CDR report writing help. Additionally, you are eligible to receive the following benefits with every CDR report order in Australia. 
CDRs are provided by Engineers Australia for all engineering fields: 
As previously said, our staff is quite familiar with all of the CDR specifications provided by Engineers Australia. Our staff gives you all the aid you need to emphasize your abilities, education, and accomplishments in the most attractive way to increase your chances of being hired by EA. Our staff can provide you with CDR Australia regardless of the area of engineering users are pursuing.
The following courses are authorized by Australia with CDR
Mechanical Engineering: The individual biography of the applicant is always given importance when our team is creating a CDR for just a mechanical engineer working outside of Australia. We make an effort to emphasize the applicant's skills and expertise in a manner that complies with the minimum standards established by the EA. 
Electrical Engineering: Even if you lack confidence in your ability to write the CDR for Engineers Australia, the group of experts can help you every step of the way till you submit your CDR. Your career episodes will be developed by our expert CDR writers so that you come across as a knowledgeable engineer. 
Chemical Engineering: We can help you in creating a strong CDR in Australia if you have a substantial understanding of chemical engineering and a good quantity of experience in that area. All the significant events in your profession like a chemical engineer are selected by our experts, and they are then presented with a CDR Australia. Civil Engineering: You can locate CDR writers that are a part of the civil engineering community at globalassignmentservice.com. They should help you in creating a high-quality CDR Australia for your request. Additionally, you may use our CDR from civil engineers Australia examples as a resource. The IT industry is continuously evolving, and so is the writing style of CDRs for IT engineers. Our experts keep themselves up to date to know the latest developments and trends in the industry. So, when they prepare your CDR, they take the necessary measures to ensure your CDR is relevant.
 IT Engineering: The composition of CDRs for its engineers is always changing along with the IT sector. Our professionals stay current so they are aware of the most recent changes and competition in the industry. Therefore, they take the required steps to guarantee that your CDR is applicable when they produce it.
 Software Engineering: Every part of CDR Australia, including the CPD, career episodes, and summary statement, can be prepared with our support. Even better, we can help you in creating a stellar software engineer CV. We have experienced CDR writers from many technical fields available to help you with your CDR writing demands. If you cannot see any engineering discipline on the list above, don't worry. Our staff includes immigrant engineers from all areas of the world who are not only knowledgeable about the technical standards in other nations but also have first-hand experience creating CDRs in Australia.
The Advantages of Using Global Assignment Service to Build Up Your CDR for Engineers Australia Students?
You are eligible to receive the following benefits with every CDR writing service order in Australia. 
Timely delivery Budget-Friendly Price
 Zero Signs of Plagiarism 
Support Available 24/7 
Excellent Customer Experience
How Can We Increase the Chance That Your CDR Will Be Accepted?
By now, you must already have a good understanding of the job that globalAssignmentservice.com does. But if you're still unclear about how the crew of CDR writers creates attractive CDRs for engineering candidates, listed below are the main steps included in the process of writing an effective CDR: 
Making the CDR from Nothing: Even though there are many Engineers Australia CDR themes online, our team of specialists always prefers to create a CDR in Australia from the start to offer the CDR in a distinctive approach. Before beginning to write the career episodes, the writers create the overall report's outline using the Engineers Australia CDR template and the applicant's instructions. They also create the Ongoing Professional Development (CPD). 
Magnificently Introducing the Career Episodes: The regions where the applicant's true skills and expertise are showcased in CDR Australia is during career episodes. We take the raw data you provide us all about the engineering career to date, process it, and show the career episodes in the most stunning way possible. To create the career episodes that pop out we just employ our years of knowledge and strong narrative abilities.
 Focusing on improving the Report for Excellence: Along with carefully crafting the CDR's main points, we also go through multiple modifications to make sure it adheres to Engineers Australia's standards. Along with identifying and correcting grammar and spelling issues, we also improve the areas where the presentation may have been stronger. Additionally, our staff does plagiarism checks to make sure it does not in any way mirror any CDR that is already in existence in Australia. The significance of the CDR Australia to Immigration Skills Assessment is understood by every professional at globalassignmentservice.com. For this reason, our professionals go above and beyond to showcase your engineering expertise, competencies, and pertinent accomplishments. Our specialists are the best at understanding the criteria because they themselves have completed the Migration Evaluation before moving to Australia. You'll be happy to learn that a few of our specialists have ties to Engineers Australia. We thus have a good understanding of how to prepare your CDR Australia request for EA acceptance.
Why do international and domestic students require help with their CDR assignments from professionals?
Due to its complexity, most candidates who are eager to present the CDR report find it to be fairly difficult. These candidates seek advice from professionals to structure their CDR reports for being and for increasing the probability of acceptance of their CDR. Therefore, the numerous rules that must be observed and the worry of being rejected if an application does not meet Australian requirements are the key motivations behind doing so. Now that the topic of why these candidates need professionals to organize their CDR gloablassignmnetservice.com has arisen, the following three factors might explain:
 Career Crisis: Since the whole future of students depends on a single CDR report, career danger is the main reason candidates contact specialists. Their sole source to demonstrate their talents, skills, and competencies in the engineering profession is the CDR report. This report is the sole way for applicants to demonstrate their value as qualified candidates for the post in Australia, applicants must write it carefully. There is a decent probability that they will be denied if they are unable to fulfill standards. Therefore, seeking guidance from specialists makes it easier for engineers living in Australia to receive aid from CDR Assignment Help specialists.
 Fear of Being Rejected: Many applicants struggle with Atychiphobia, or the fear of being rejected, which prevents them from giving their best effort. Atychiphobia is among the stages where applicants begin to feel inferior to others because they are unable to generate an innovative CDR report that will set them apart in the career field. There is a great deal of anxiety about making mistakes or errors when performing the assigned assignment or report, which leads to the submission of a report that is below par. We as a firm of CDR specialists assist such candidates to get out of this scenario so they may succeed in aspects of their employment in Australia. 
Limited time: Lack of time is another consideration; candidates are given a deadline by which they must complete all procedures and deliver their CDR report. Only 12 weeks are given to them to grasp and become acclimated to the duty, which is a very limited period to finish this protracted procedure. At the end, when the deadline is drawing near and the duties remain unfinished, candidates turn to CDR pros for report writing. At this point, the candidates request assistance from our experts.
Why Is GlobalAssignmentService.com the Best Option for Australian Students in Need of CDR Report Assistance?
Given that they have assisted several candidates with creating CDR reports, GlobalAssignmentService.com has become a well-known brand in Australia. People from throughout Australia can sincerely confirm our company's success in delivering high-quality services. To gain the confidence of the majority of Australians, we effectively targeted them and were able to measure the highest level of customer satisfaction. We have a very strong track record when it comes to CDR, and we can declare with great ease that nobody has ever failed based on a CDR report that we created. As a result, we have done a great job of projecting a favourable brand image when it comes to CDR writing service aid. You may better appreciate why candidates choose us over the other CDR experts in the industry by keeping in mind the following advice:
Specialized Authors: The fact that we have qualified writers in many engineering fields is one of the reasons customers choose us all for CDR Assignment Help. To be able to meet all of the potential requirements of applicants, we as a company put a lot of effort into assembling a team of specialists from all fields of engineering, starting with electrical, robotic, biomedical, and mining, as well as other related fields. This is done through the commitment and dedication of our team members. We have a diverse staff of engineering specialists in different sectors with the necessary training and abilities to construct faultless CDRs. Our team can create a compelling CDR that cannot be refused thanks to the skills of our CDR writers.
Creative and Distinctive material: One of our strengths that must never be sacrificed is originality. We promise all of our applicants' CDR content will be original and free of plagiarism. Our professionals are educated to begin with the design of CDR Assignment Writing and use all necessary resources for reasons of authenticity. To further assure the validity of our work, a plagiarism inspection is also maintained using one of the reliable plagiarism detection tools. We make sure that our professionals extensively research the candidates during the evaluation process to write unique and innovative material for our applicants. This is one of the methods used to ensure that original information is gathered for each applicant's CDR to tailor it to their potential. By doing this, we can be certain of the innovation and originality of the CDR services that our specialists are offering, guaranteeing that the candidates will do well in Engineers Australia's evaluation process.